Laser Treatments
Cleared by the FDA in 2009, Multiwave Locked System (MLS) laser therapy is a non-invasive, safe and effective treatment modality in which light is used to relieve pain, reduce inflammation and promote healing and soft tissue repair.
The MLS laser features breakthrough technology that uses a multiwave, fully robotic laser for faster healing and pain reduction. This technology has the ability to significantly reduce healing time for acute injuries and vastly improve the quality of life for patients suffering from chronic conditions.
MLS laser therapy has no known side effects and is a comfortable, effective, and convenient treatment for old or new injuries. Chronic arthritis pain, back pain, neck pain, bursitis, hip or knee pain, plantar fasciitis, sciatica, toenail fungus, tendonitis, shoulder pain, post-surgical pain, neuropathy, and fibromyalgia are only a few of the conditions that can be treated.
If you would like to learn more about laser therapy treatment and how it may help you, call The Centers For Advanced Orthopaedics- MMI Division at (301) 694-8311 or request an appointment online.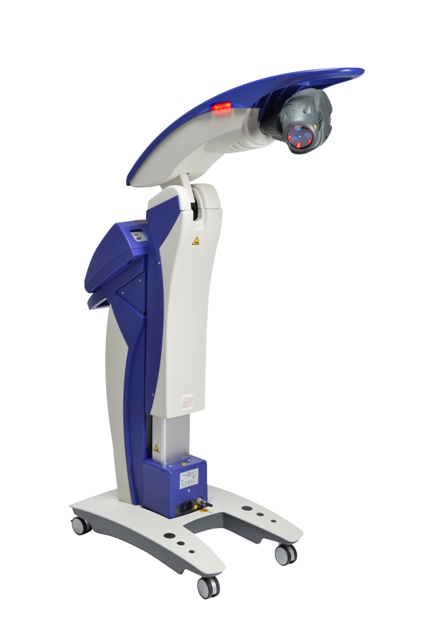 How Does Light Therapy Energy Work?
Light energy helps heal injuries by:
Stimulating cells to remove toxins

Allowing oxygen and food loads into the cell

Blocking pain signals in the brain and releasing endorphins and enkephalin (natural painkillers)

Increasing the production and growth of cells, bringing blood flow into the area and accelerating the healing process

Jumpstarting the body's own healing process by stimulating the mitochondria in the cells
What are the Benefits of Laser Therapy?
No side effects

No surgery

Rapid improvement of blood circulation

Rapid pain relief

Rapid repair of wounds and ulcers

Rapid repair of swelling

Speeds the healing process

Strong anti-inflammatory effect

Timely healing of sprains and strains
How Many Treatments Will I Need?
The number of treatments is based on the type of problem that is being treated and if it is an acute or chronic condition. Treatments for acute care conditions is 6 treatments, and for chronic conditions is 12 treatments. It is best for treatments to be provided 2 to 3 times per week.
How Long Is Each Treatment Session?
A single treatment takes less than 15 minutes and is completely painless and comfortable. Treatment times may vary for multiple areas.
Do I Need to Do Anything Special Before the Procedure?
We encourage you to wear comfortable, loose-fitting clothing and to bring a light jacket or sweater in case the room is too cool for your comfort. If needed, a gown or shorts will be provided for you. You can bring a book, magazine, or electronic device; however, you will need to be still while the laser is active.
Make sure the area of treatment is clean prior to your appointment.

Avoid the use of topical creams, lotions, or analgesic balms before or immediately after treatment.

Wear approved safety goggles unless lying face down away from the laser light (supplied by the tech).

Avoid wearing jewelry or any shiny objects (watches, bracelets, chains, etc.) at or around the treatment area during the actual treatment.
What Can I Expect After the Procedure?
After your treatment, you may feel immediate relief. Most people experience a comfortable sensation at the time of the application. The effects of the treatment are cumulative; therefore, you should expect to see improvement as you proceed through the treatment plan. Once you begin treatment, it is critical to complete the course of treatment or symptoms are likely to re-occur.
What Does Laser Therapy Cost?
MLS laser therapy is cleared for clinical use by the FDA; however, insurance does not reimburse for this procedure.
We have priced the treatment to make it more affordable so those who suffer from pain have an alternative. The cost is $40 per treatment; however, they are sold in packages.
6 Acute Care Treatments = $240

12 Chronic Care Treatments = $480 *** Buy This Option and Save!! Your Price $432. That's an additional savings of $48. ***
Laser therapy treatments work with other treatments to help provide optimal comfort. Contact us today to set up your first appointment!