We are MMI Division of the Centers for Advanced Orthopaedics.
It is our goal to provide every patient the highest quality of life with the least amount of risk.
Conservative Solutions
Our physicians are committed to exhausting every non-surgical treatment option before recommending surgery. Any patient requiring surgery will be fully informed on the procedure, any potential risks, and the post-surgical rehabilitation process.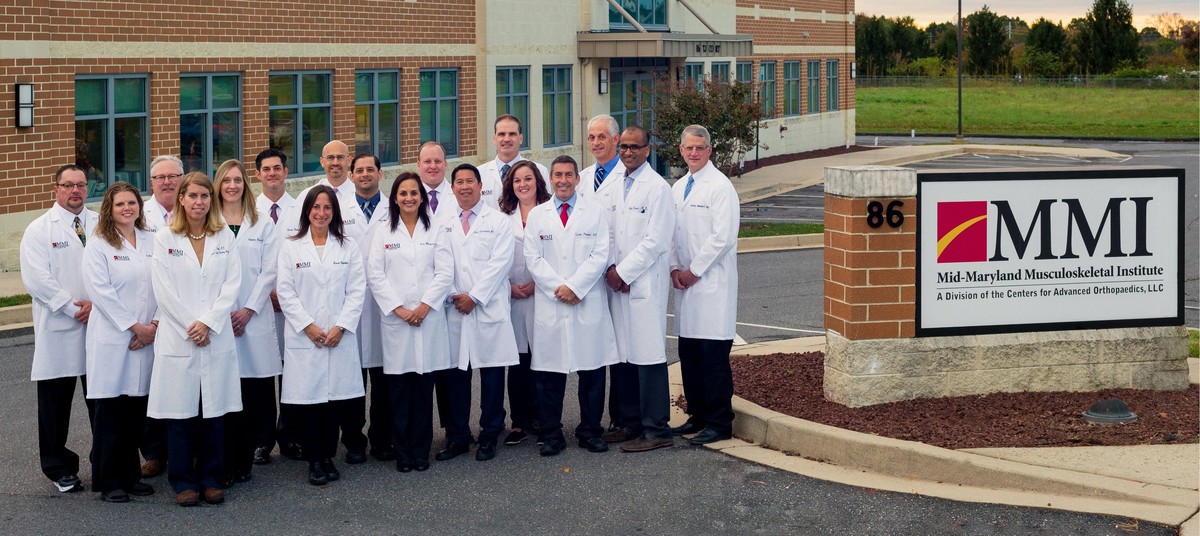 Equality Statement
The Mid-Maryland Musculoskeletal Institute division of the Centers for Advanced Orthopaedics stands committed to engaging in the systematic evaluation and eradication of all forms of racism and ethnic oppression and to create an environment where all patients, business partners and employees regardless of race, gender or identity know that they are valued. We will work to address injustices within our own workplace and as applicable, within our broader community. We are committed and united in our efforts as administrators, providers, and staff to end racial, ethnic, and gender bias and to empower each other and our patients towards this collective goal.
We understand that racial, ethnic, or gender bias can be unconscious or unintentional and those who commit biased acts are not always intentionally engaging in negative behavior. We challenge ourselves to identify and discuss issues of race, gender, and identity bias within our workplace and the negative impacts it may have on our organization and our ability to provide high quality care for patients and community. Having these conversations will require courage, respect and compassion, and may not always be comfortable, but as we develop policies, programs, and practices, we hope to achieve a standard of excellence in racial, gender, and identity equality that embraces our differences and strengthens our relationships with each other and our community.
Personalized Care
No two treatment plans are alike. We provide patients with individualized care that includes physical therapy and training recommendations. We believe in full communication with our patients, their referring physicians, and their principal caregivers about their diagnosis, treatment options, and progress.
Referring Physicians
When a patient requires specialty orthopedic care or additional healthcare services, their Primary Care Provider may refer them to a specialist. At MMI, many of our doctors have subspecialty areas that focus on orthopedic issues. We are proud to be preferred orthopedics provider for many referring physicians. Our medical expertise is used for assistance, examination, treatment, and further information of specialty musculoskeletal and orthopedic injuries.
Team Approach
Our team of orthopaedic surgeons, sports medicine physicians, hand and upper extremity surgeons, spine surgeons, foot and ankle specialists, pediatric orthopaedic doctors, physical therapists, physiatrists, and rheumatologists coordinate with one another, you, your referring physician, and your principal caregivers to provide the highest level of care. We look forward to serving you in the near future.
Our Team Approach to Care