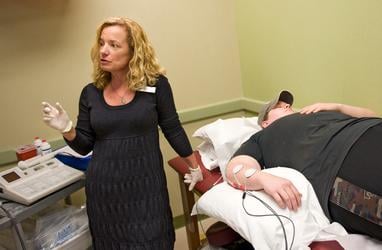 It's not quite acupuncture, but not quite modern medicine either.
Trigger point therapy combines some principles of acupuncture with modern medicine to relieve muscle pain. Donna Pendleton, a physical therapist at Mid-Maryland Musculoskeletal Institute in Frederick, is a trained professional in trigger point therapies and has been treating patients using this dry-needling technique since November.
The concept is simple. Dry, solid needles, similar to sewing needles but more slender, are inserted into muscles.
While acupuncture relies on meridians and energy flow, trigger point therapy activates the healing capacities of muscles. The needles stimulate the muscles to release endorphins, which are natural pain relievers. The pain diminishes and the flow of healing begins.
"The trick is to decide where the muscles are," Pendleton said as she worked on patient Callyn Beals. Beals works as a correctional officer, and suffered a forearm injury on Nov. 30 in a training exercise.
Beals has tennis elbow, a common injury. The muscles of the forearm become inflamed. Tennis elbow can be caused by computer overuse. In Beals' case, a training partner pulled her arms behind her back to practice handcuffing and strained her right forearm.
"With tennis elbow, it becomes difficult to reach for anything," Pendleton said. Left untreated, simple tasks such as reaching for an item in a cabinet or putting on clothes becomes difficult.
"If we dry-needle it, it often has immediate effects," Pendleton said. Trigger point therapy works best if administered shortly after the injury occurs. If the injury occurred more than a month before treatment, several treatment sessions are needed to get the best result.
"In Callyn's case, I would expect her to feel different, maybe a little sore, and then in two days, experience some relief," she said.
She inserted six needles into Beals' forearm. "I can feel some of them," Beals said. "It's not painful, though."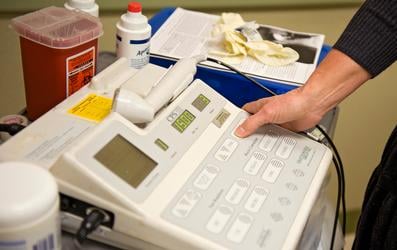 The needles are inserted into muscles. Each needle causes a muscle to twitch, and then relax. "There may be a sharp sting," Pendleton said. "But the muscle relaxes pretty quickly." The sting only occurs if the needle penetrates a particularly tight knot of tension in the muscle.
Once the needle has been inserted, the muscle typically relaxes, and that promotes extra blood flow to the inflamed area, which helps speed healing.
Beals said she felt a tingling, which is brought on by the increased blood flow, but no pain. Pendleton also adds in electro-stimulation to increase blood flow.
Trigger point therapy is another tool in physical therapy, Pendleton said. "It gives us an interesting adjunct for people who may or may not get good relief with traditional treatment," she said.
She uses needles of different lengths, depending on the muscle she's treating. Pendleton has even treated people with headaches. Tension headaches respond well to trigger point therapy, she said. "If you get the right tension muscles, it works," she said. She will place needles in the forehead, on top of the head and in the back.
"The body does amazing things," Pendleton said.
One of the needles on Beals began to quiver, which can happen, Pendleton said. "You can feel a muscle spasm, which can make the needle do a little dance," she said. "They say that's the sign of a true trigger point."
Beals' goal is to heal her arm so she can return to work. Tennis elbow, so-called because it was noticed in tennis players, is common and can be debilitating. "Anyone who works at a computer without frequent breaks can get it," Pendleton said. Forearms often don't give off signs that they're fatigued.
"If you walk up a steep hill, your legs give you a sensation when you're tired," she said. "Your arms don't give you that sensation. You end up with a lot of people doing activity with the forearms and no break. You're running a marathon with your forearms."
Then the body begins to break down, and pain is the result. To prevent this, she said, take your hands off the keyboard at least once an hour and let the blood flow return.
Pendleton, who typically works as a hand therapist, has also used trigger point therapy for people with low-back pain.
When a muscle contracts, a tiny part called a sarcomere contracts and interlocks. Millions of these join together to make muscles move. When the sarcomere is overstimulated, however, blood flow can stop and soreness and inflammation can occur. The muscle becomes starved of oxygen.
Trigger point therapy helps to restore that healing blood flow, restoring oxygen and relieving pain.
Unlike acupuncture, however, trigger point therapy does not depend on meridians to determine where to place the needles. "It's much more muscle-specific," Pendleton said.