June 15, 2015
The Art of Medicine: Alum, Dr. Jocelyn Idema, shares experience as nurse and doctor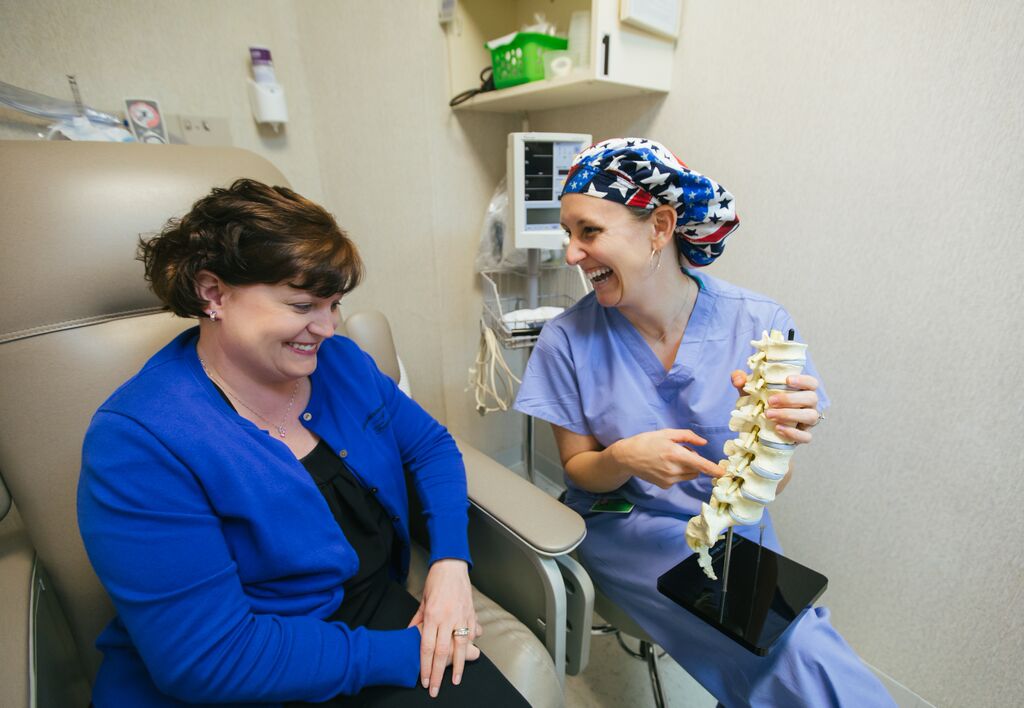 Athlete. Resident Assistant. Doctor. Surgeon. Mother. Registered nurse.Those words all describe one alum, Dr. Jocelyn Idema '99, who this past fall was named to the Becker's Spine Review list, "38 spine surgeons under 40 to know." When you meet Idema, it's easy to understand why her colleagues nominated her for the honor. She has the qualities every patient wants in a doctor: she's smart, focused, and personable, someone who makes an effort to connect with you.
"[The award] was a complete shock to me. My husband told me, 'look at this, you're in Becker's Spine!' I was completely surprised and humbled," Idema said. "It was very nice considering it's a very long haul to get to this point of not only being certified, but then also being recognized by other people in your specialty."
After over 10 years of intensive study, fellowships, internships, and residency requirements completed across the country—including Arizona, Oklahoma, Maryland and Pennsylvania—Idema is now a spine surgeon at The Centers for Advanced Orthopaedics in the mid-Maryland Muskuloskeletal Institute Division.

From biology major to nurse and doctor
A Biology major and Chemistry minor while an undergraduate at Gettysburg, Idema started her professional medical studies at the School of Nursing at John Hopkins University as a labor and delivery nurse. But after beginning the accelerated 13-month program there, Idema decided she wanted to pursue her goal of attending medical school. A few months before completing nursing school, she was accepted to both The Johns Hopkins University School of Medicine and The Philadelphia College of Osteopathic Medicine (PCOM).
Idema would go on to pursue a doctorate of osteopathic medicine from PCOM, choosing the program for its focus on manual medicine, which uses palpation and physical techniques to help diagnose and treat musculoskeletal issues.
"I've never examined a medical condition in isolation. It's not how osteopaths look at things. If you have pain in your back, we look at the whole patient. Is it your ankle? Is it stress? That perspective allows me to draw from more tools in my arsenal to fix the problem," she said.
Her minimally invasive spine surgery and motion preservation techniques allow Idema's patients to recover more quickly – some even going home within 24 hours of having surgery.

Seeing the bigger picture
Idema's well-rounded focus was perhaps most evident in her involvement on campus at Gettysburg. She was involved in drama. She became a resident assistant. She was also a talented swimmer, attracted to campus from Utah, where she graduated from high school early. She had been scouted by Ivy League and other top schools, but chose Gettysburg for its academic reputation.
"My parents grew up in York, and my grandparents grew up in Dillsburg, so I was very familiar with the area and was looking for a good swimming program. The idea of being a big fish in a small pond appealed to me," she said. "I wanted a well-rounded education, but also a program that was recognized for the sciences."
As a first-year, Idema earned All-American Honorable Mention status as a member of the 400-medley relay and 800-freestyle relay. During her time at Gettysburg, the women's swim team won four straight Centennial Conference titles and lost just one dual meet.
An education for the future
Between her activities and studies, it all "clicked" for Idema at Gettysburg.
"When you swim, you pull [muscles] every once in awhile, so that played a role in it," Idema said, explaining how she became interested in medicine. "Taking anatomy and physiology classes [at Gettysburg] felt right. When I was a student, there was also a mobile RV they used to treat people in the area for free, and I volunteered for that my sophomore through junior year. I loved being able to interact with people and help them feel better."
Idema said Gettysburg had everything she needed to successfully apply and prepare for medical school. She attended lectures from visiting doctors—first hearing about and becoming interested in osteopathic medicine from one of those sessions. She was able to shadow doctors at the nearby hospital. She excelled in the biology and chemistry program, developing the intellectual stamina needed to excel in the medical field. Perhaps most importantly, she learned the people skills needed to help her connect with her patients—what ultimately separates the "good" doctors from the "great" ones.
"Not every patient who walks in is going to be a cookie cutter of the last person you saw. Everyone comes from a different background and culture. Having a liberal arts education gave me well-rounded tools to draw from." Idema said. "The art of medicine has largely been lost through the technical age. A lot of my success is due to what I learned about communication from my time on campus—I engage people. I communicate. I listen."
Read more about Dr. Idema on her website, www.spinedocidema.com.
Founded in 1832, Gettysburg College is a highly selective four-year residential college of liberal arts and sciences with a strong academic tradition. Alumni include Rhodes Scholars, a Nobel laureate, and other distinguished scholars. The college enrolls 2,600 undergraduate students and is located on a 200-acre campus adjacent to the Gettysburg National Military Park in Pennsylvania.