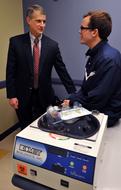 After suffering a hamstring pull in the right leg early in the 2010-11 high school basketball season, point guard Paul McLister was afraid he would miss most of the rest of the season.
Then McLister, a student at Gov. Thomas Johnson High School in Frederick, and his family were told about Platelet Rich Plasma therapy, a new treatment used by many athletes to speed up the healing process.
Dr. Jeffrey Gilsdorf, of the Mid-Maryland Musculoskeletal Institute in Frederick, was the doctor who told McLister about the surgery. He gave McLister PRP therapy and McLister was soon back on the court.
"My first game back was one of my best," said McLister, who missed eight games. "It was against Frederick (High) and I scored 10 or 14 points."
Then last summer he suffered hamstring injury prior to football season. McLister, a kicker on the TJ team, got another treatment and was able to kick the whole year.
PRP is not a new therapy among athletes and others with tendon injuries and osteoarthritis. It has been used by doctors in various specialties for years. But it has become very popular among athletes.
Golfer Tiger Woods has received the treatment. PRP got a lot of attention when football players Hines Ward and Troy Polamalu of the Pittsburgh Steelers said the therapy made them healthy enough to take part in Super Bowl XL.
Washington Redskins' safety LaRon Landry reportedly has used the therapy.
Many athletes look at it as a way of avoiding surgery.
"I have been using it for about four or five years," said Gilsdorf, who specializes in sports medicine at MMI. "It helps speed up the healing process, speeds up recovery so they (athletes) can get back and play sports faster."
The treatment involves drawing a small amount of the patient's blood and placing it in a centrifuge, which separates the platelet-rich plasma from the rest of the blood. The platelets have growth factors that help to speed up tissue repair and regeneration.
The platelet-rich plasma is then injected into the injured area.
Gilsdorf said he has found PRP to be very helpful with acute injuries such as hamstrings or groin pulls. He is not sure if it is effective for chronic injuries, such as tennis elbow.
"With hamstring pulls, it can cut the healing time in half," he said.
But, he added, the medical community is still learning about the treatment.
Dr. James Steinberg of MMI also provides the treatment.
McLister said he was out of action for about two weeks of the high school basketball season when he first had PRP therapy.
Before McLister decided to undergo PRP, his father, Patrick McLister, did some research on the Internet.
"A number of pro athletes had it, and I decided it was worth getting it done," Patrick McLister said. "It was a way to try and save his junior season."
Paul McLister said the treatment took about 30 minutes. He said he had some pain for about two days, but then was ready to go. He was back on the court about a week after receiving the treatment.
When he pulled his hamstring before the football season, he missed much of summer practice. He got the treatment in late August, returned to practice and kicked all season for the TJ Patriots, who reached the state football finals in Baltimore. McLister kicked an extra point in the title game.
PRP therapy is still considered experimental and many insurance companies don't cover it.
The McListers bore the cost out-of-pocket. Patrick McLister said it cost $750 for the first treatment during basketball season and between $400 and $500 for the second.
"He was able to kick at (M&T Bank Stadium, home of the Baltimore Ravens,) in the state championships," Patrick McLister said. "It was worth it."