December 12, 2013
Muscle, bone and joint specialists open office in Urbana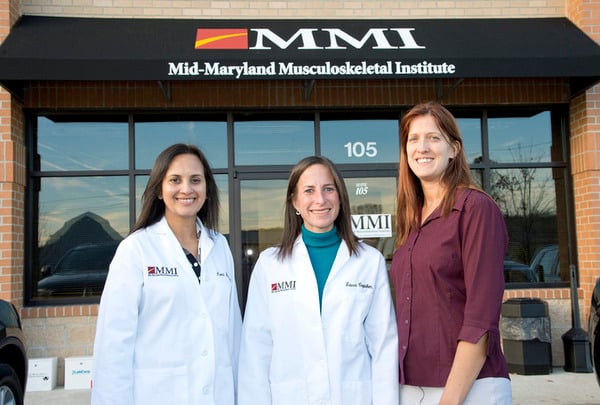 Frederick News Post

Posted:
Thursday, December 12, 2013 2:00 am
A second office of the Mid-Maryland Musculoskeletal Institute has opened. This medical practice specializes in muscle, bone and joint care with physicians in orthopedics, rheumatology, podiatry, and physical medicine and rehabilitation.
On the staff are medical doctors Frank Nisenfeld, Mark Chilton, Jeffrey Gilsdorf, Kristin Nesbitt, Laura Copaken, Neeti Bhargava, Enrico Villanueva, Zinon Pappas and Christopher Berman, as well as podiatrist Damian Roussel and osteopath James Steinberg.
• What led you to launch this business?
Extensive growth in both the Urbana area and northern Montgomery County. Many of our patients in our Frederick office either live or work in lower Frederick and upper Montgomery counties. This expansion allows MMI to bring the full range of its services for muscle, bone and joint care closer to this group of patients. Accessibility is important in our mobile and busy society.
• What is unique about it?
No other practice in the region has the depth and breadth of musculoskeletal treatment options available. The new Urbana office has specialists in general orthopedics, spine care, sports medicine, pediatric orthopedics, foot and ankle care, rheumatology, physical medicine and rehabilitation, pain management and physical therapy, including orthopedics and women's health, all in one location.
• What do you do that nobody else does?
We offer a seamless coordination of care for the patient who may need to see multiple specialists for muscle, bone and joint injuries and conditions. This interdisciplinary approach to treatment has proved to increase quality and is a cost-effective means of providing health care. The efficiency of coordinating care among related specialties saves our patients time and is more convenient.
• Why do you believe you'll be successful?
We have a track record of meeting the needs of our patients and referring physicians. Accessibility is key to our practice model and style. Our history of delivering quality care also bodes well for us at our new Urbana location. With unprecedented construction and growth for years to come, Urbana-area residents will demand more services come to them. There are very few physician specialists in the area at this time, but that can only increase.
• Tell us something specific about your business field, who your customers are or how you see a new business doing in a challenging economy.
The future of health care is fraught with many uncertainties. Medical practices must continue to work to demonstrate value to our patients. Key to this value proposition is quality, cost and efficiency. Patients, because of the recent changes in insurance plans offered by employers, are being asked to assume more financial responsibility. As such, they are rightfully demanding better access and customer service and holding physicians to a higher service standard. These challenges will prompt us to be more responsive to our patients' needs. MMI's expansion to Urbana is designed to help address these needs.
3280 Urbana Pike, Suite 5, Ijamsville; main office: 86 Thomas Johnson Court, Frederick
8 a.m. to 8 p.m. Monday to Thursday; 9 a.m. to 4 p.m. Friday; 8 a.m. to noon Saturday.
Mid-Maryland Musculoskeletal Institute
3280 Urbana Pike, Suite 5, Ijamsville; main office: 86 Thomas Johnson Court, Frederick
• Hours of operation: 8 a.m.-8 p.m. Monday-Thursday; 9 a.m.-4 p.m. Friday; 8 a.m.-noon Saturday.