February 10, 2014
Winter's Cold "Grip" Brings Aching Fingers For Many - Managing Raynaud's Phenomenon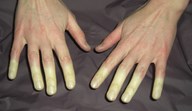 After being outside for a while in cold temperatures, most of us may experience a feeling of coldness, burning and tingling in our fingers that usually resolves once we warm up or put on gloves. But, for some, the pain can be excruciating, their fingers turn white, and the return to normal feeling and circulation can take much longer than usual. Such a severe reaction to cold in the hands is called Raynaud's phenomenon.
Raynaud's phenomenon is a type of vasospastic condition in which the small arteries in the fingers abnormally constrict or tighten due to exposure to cold, which limits blood flow. When this happens, a typical sequence can occur: the affected fingers turn white, followed by a bluish color as deoxygenated blood pools in the fingers, and finally a red flush appears called reactive hyperemia as normal, oxygenated blood flow returns. Any, or all, of these phases can produce pain, a dull aching feeling, and paresthesias or "pins and needles" feeling as the fingers warm up again. According to MedicineNet.com, Raynaud's phenomenon most frequently affects women in their second, third or fourth decade.
In addition to cold, other triggers for Raynaud's phenomenon can include stress and neurologic conditions that create overactive vasoconstriction in the digits. It is also associated with inflammatory conditions, such as rheumatoid arthritis, and collagen-vascular disease, known as scleroderma. Diagnosis is usually made in collaboration with a rheumatologist, vascular specialist, and/or neurologist. Treatment can include the use of medications to increase blood flow to the extremities and activity modification.
Fortunately, there are many ways to help prevent or reduce the severity of Raynaud's attacks during the winter season, including:
Stopping or reducing the use of nicotine and caffeine which are "vasoconstrictors" that narrow blood vessels and restrict circulation. Studies show this change alone can reduce symptoms by 50%.
Warming up the hands with warm water or home paraffin baths (available online or at home supply stores) for 10 minutes before going outside.
Using portable single use hand warmers placed in gloves or mittens (available at most large hardware stores).
Wearing well insulated mittens vs. gloves on very cold days which keep fingers together and retain heat better through the hands.
Dressing: 1)dress in layers, including newer, lightweight performance fabrics and undergarments which fit snug, and use a vest to maintain your core temperature and reduce shunting of blood flow from the extremities, 2)always wear hats/scarves to reduce body heat loss.
Wearing gloves, such as lightweight cotton styles, when at the grocery store, mall or other places with freezers or air conditioning to reduce sudden or sustained cold exposure.
Eating frequent, smaller meals – larger meals cause more blood to be diverted to the stomach vs. the extremities.
Practicing meditation, deep breathing and relaxation techniques to reduce stress which causes tightening of blood vessels, and getting regular exercise to maintain cardiovascular health.
For those experiencing Raynaud's symptoms, MMI has a comprehensive team of physicians including a hand specialist and rheumatologists who can help develop the right plan of care to alleviate your symptoms and lessen winter's "icy grip" on your hands.
Activity modifications adapted from Melvin, JL, MS, OTR, FAOTA. Scleroderma (Systemic Sclerosis): Treatment of the Hand. In: Skirven (et. al). Rehabilitation of the Hand and Upper Extremity, 6th Edition. Philadelphia, Pa: Elsevier Mosby, 2011:1438.