April 12, 2013
What Is A Certified Hand Therapist?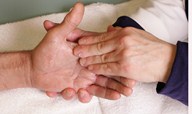 People value the use of their hands. Any loss of function through an injury or accident can be life changing. Treatment with a Certified Hand Therapist offers an assurance to the patient that the therapist has achieved the highest level of competency in the profession and stays up to date with practice within the field.
So what exactly is a Certified Hand Therapist? A Certified Hand Therapist or CHT is an Occupational Therapist or a Physical Therapist that has been practicing therapy for at least 5 years and has participated in 4,000 hours of direct practice in hand therapy. Additionally, a Certified Hand Therapist has completed a comprehensive certification test produced by the Hand Therapy Certification Commission, HTCC, that includes assessment of the hand therapists' knowledge of advanced clinical skills in the upper quadrant (hand, wrist, forearm, elbow, shoulder). Once the certification is obtained, CHTs are expected to continue their professional development and demonstrate competency by recertifying every 5 years. How many CHTs are there? According to the Hand Therapy Certification Commission website, there are 5,676 CHTs worldwide and of those therapists, 5,382 practice in the United States.
At MMI we are fortunate to have 4 Certified Hand Therapists who work closely with our hand surgeon, Dr. Nesbitt. Dr. Nesbitt places confidence in her hand therapists knowing that they have advanced knowledge of the detailed anatomy of the upper extremity. She also relies on her specialized staff to understand the complexities of her surgeries in order for the most appropriate rehabilitation plan to be developed. Another skill that the MMI doctors rely upon is the Certified Hand Therapists ability to make custom thermoplastic splints. Splints are particularly necessary following specific procedures or certain diagnoses in order to protect the surgical repair and/or aid in recovery.
More specifically, the HTCC Board of Directors defined the scope of hand therapy practice as the following:
Hand therapy is the art and science of rehabilitation of the upper limb which includes the hand, wrist, elbow and shoulder girdle. It is a merging of occupational therapy and physical therapy theory and practice that combines comprehensive knowledge of the upper limb with function, and activity. Using specialized skills in assessment, planning and treatment, hand therapists provide therapeutic interventions to prevent dysfunction, restore function and/or reverse the progression of pathology of the upper limb in order to enhance an individual's ability to execute tasks and to participate fully in life situations.
Certified Hand Therapists have to demonstrate advanced knowledge and specialized skills to achieve this benchmark in their profession. Hours are dedicated to learning and keeping abreast with current trends in the field. Becoming a CHT is not a requirement for hand therapy; however, it is a requirement of Dr. Nesbitt's. Why? Dr. Nesbitt understands the level of commitment and submersion in the field of study required to become a hand therapist. It is that commitment and passion that helps the Hand Therapy team deliver the highest level of quality to their patients.