October 16, 2013
Feet Hurt??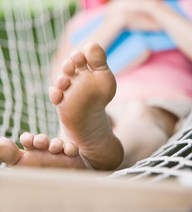 Do you work long hours standing up and experience burning or pain in your feet? Have you tried switching shoes or using insoles, and nothing seems to work? This could be a result of plantar fasciitis.
Plantar fasciitis is the most common cause of heel pain. The plantar fasciitis is the flat band of tissue (ligament) that connects your heel bone to your toes, supporting the arch of your foot. Common in middle-aged people, plantar fasciitis affects those who are on their feet for long periods of time, such as athletes, house workers or soldiers.
Plantar fasciitis is actually a sprain to the ligament that supports your arch. When this sprain persists, irritation and swelling can lead to pain. Because this ligament is attached to the heel, one may experience heel pain. If left untreated, the irritation can turn into a heel spur- which is the result of the continued pulling of the tendon where it is attached to the heel. The discomfort is most pronounced after standing up from laying or sitting.
If one sits during the day, they may experience "restart" pain once they stand up and bear weight. There is no single or simple treatment that works for plantar fasciitis. However, it is most important to get a proper diagnosis from a podiatrist or physician who specializes in foot and ankle problems. Based on his or her diagnosis, the following relief options may be appropriate:
1.) Pumping your foot up and down after you sit down or lay, before you stand up.
2.) To reduce pain or swelling, soak feet in cold water or apply ice. Over the counter pain relievers may be helpful (but please check with your doctor to decide the best course of action)
3.) Wear shoes with good arch support and a cushioned heel.
4.) Do toe stretches and calf stretches 3-4 times daily to increase elasticity and mobility of the fascia.
Below are some suggested exercises to implement in daily routine:
Towel curls- lay a hand towel on the floor. Using your toes, scrunch the towel up toward you slowly. Repeat 10x on both feet.
Arch raises- while standing, press your toes downward into the ground while you keep the heel planted, so that your toes form an arch. Do this 10x on both feet.
Calf stretches- lean into the wall with both hands, place foot behind, keep heel on the ground, and feel the stretch in your calf. Hold for 20 seconds, and repeat 2-3x for both feet.
Place a toe separator between toes (like those used when you get a pedicure) Squeeze/curl toes and then relax. Repeat 10x on both feet.
Massage- you may find it helpful to rub your foot back and forth on a frozen water bottle, replicating a foot massage.
Start with these simple ideas, for plantar fasciitis relief. If no relief is experienced, contact the physical therapists or physicians at MMI for a closer look into treatment for your pain.