Patient Testimonials
At The Centers for Advanced Orthopaedics - MMI Division, we believe that the patient experience is just as important as the clinical results. It is every staff member's goal to provide quality care and attention to our patient's needs from your first phone call until your final visit. The following patient testimonials were taken from surveys completed by patients in our office and on this website as well as social media sites like Facebook and Google+. Please consider sharing your experience as well.
These patient testimonials show you what our medical team can do for people with orthopedic conditions. If you are ready to take the next step toward living your best life, contact our office to schedule your initial consultation.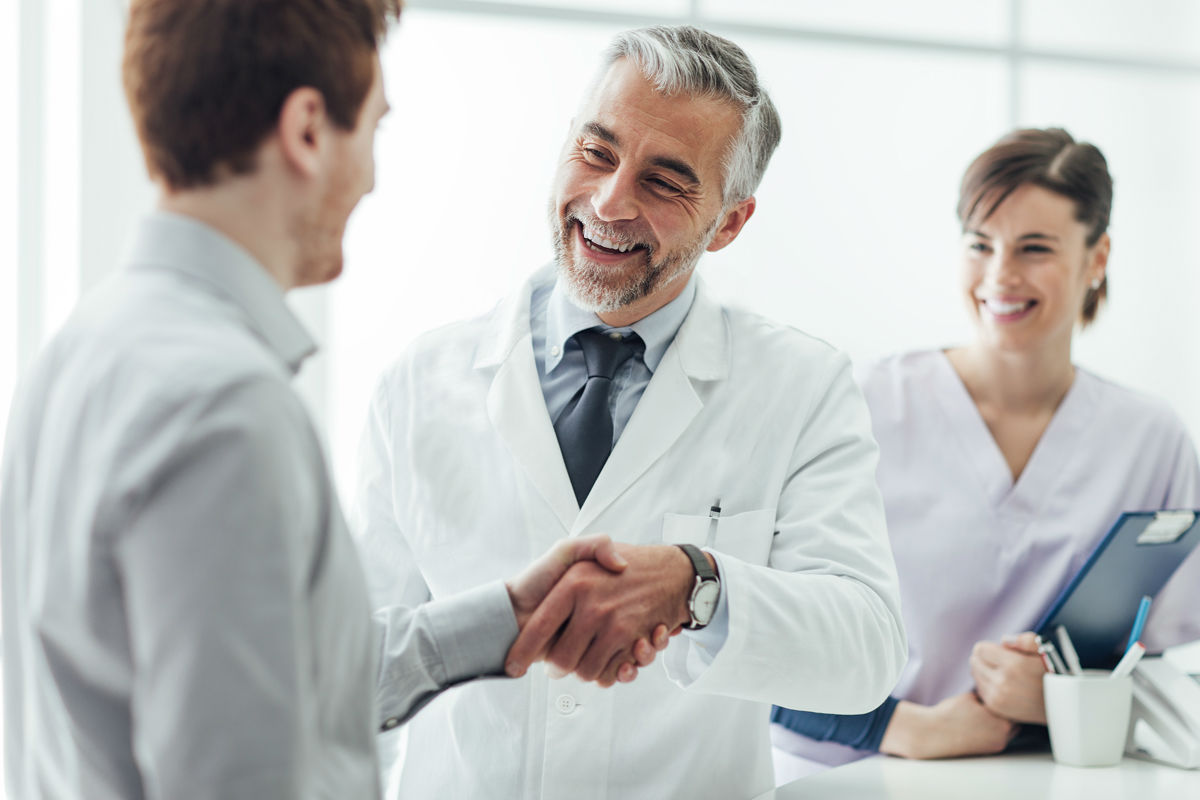 November 2017 - "Dr. Laura Copaken is a miracle worker !! I believe if it wasn't for her I would have lost my right leg and maybe my life....I've had nothing but wonderful experiences since I've been going there for the last 5 years !! I WILL NOT GO ANYWHERE ELSE."
November 2017 - " I would like to acknowledge the staff at both locations on Thomas Johnson Drive. Dr. Pappas and his entire support team has provided the highest level care and attention of any facility I have ever attended. I strongly believe MMI is aggressively seeking to identify the source of my pain and am confident this will be resolved in due time."
August 2017 - "I am glad I came as I feel better doing things I had trouble doing before. Enjoyed my visits."
August 2017 - "Friendly, helpful staff. Enjoyable experience during healing process."
July 2017 - "Was very pleased. Left with all the information I needed. Therapist was extremely knowledgable and had an excellent ability to connect with her patients."
June 2017 - "Both Marisa Hombach and Tobi Smith have been excellent to deal with and very helpful with my injury."
June 2017 - " Everyone is friendly and professional. "
June 2017 - "Front office staff is fantastic! Very personable and a joy to see."
June 2017 - "I'm grateful for the therapy I received; I'd not have done so well on my own."
May 2017 - "Great and friendly staff. They made our first cast experience extremely pleasant."
May 2017 - "Checking in process was quick and easy! Staff very friendly especially working with Lori before she had everything ready to go for me! Amazing service"
May 2017 - "Cannot give enough praise to everyone at MMI physical therapy. I really appreciate the service and care they give. Thank you!!!"
May 2017 - "The staff in PT is amazing. I cannot say enough positive things about them, from front office to assistants to Brent himself. I enjoy coming to PT and know i will be taken care of and treated with respect. I would recommend anyone and everyone to come to him. Kaitlyn is amazing as well! Shes friendly, an extremely hard, dedicated worker."
May 2017 - "Outstanding customer service...I loved being escorted from area to area!!!
May 2017 - "Great experience-looking forward to coming back"
April 2017 - "Your practice is the standard I judge other medical offices against. Few come to the level of effectiveness or professionalism."
April 2017 - "Excellent staff, felt like family!!!! So pleased with my outcome!!"
April 2017 - "Love MMI ortho doctors and staff!"
April 2017 - "Cathy is so caring and easy to talk to and truly understands and addresses questions and concerns. Marianita is a sweetheart. Erin was great showing me how to use my new tens machine and so patient. Thank you all for helping me with my issues/injuries."
March 2017 - "Overall it has been fantastic. My thanks!!"
March 2017 - "Jay was amazing and the entire staff made me really comfortable."
March 2017 - "Thanks to everyone. Best choice I've made."
March 2017 - "Dr. Steinberg and Doug have helped so many members of my family we truly thank them for all they have done. We will never go anywhere else."
February 2017 - "Everybody I have had an interaction with has been phenomenal on every level. Cannot say enough good things."
February 2017 - "The staff is always pleasant to work with and very attentive."
February 2017 - "Great providers and staff. I spread the word whenever I can."
January 2017 - "Love the practice and your professionalism."
January 2017 - "Extremely happy with my surgery. It was life changing and I will recommend Dr Gupta to anyone that needs a hip replacement. He was outstanding during the entire process."
January 2017 - "The ladies at the front desk were so nice and kind. Dr Villanueva was very matter of fact, which was nice. He was able to tell me right away what he thought was going on but wanted to do blood work to rule out other possibilities. His initial diagnosis was confirmed. Nice to find a competent doctor in Hagerstown!"
January 2017 - "I went there to be seen for my shoulder. Severe arthritis. First time patient. I had a great experience. Everyone was courteous and thorough. Was in and out in about an hour and even got a shot that was needed too. Thanks for helping me feel less pain."
December 2016 - "All I can say is, I have been going there for my son a long time. The front desk is awesome, staff and nurses are all great and I love Ken Berry, he's the best."
December 2016 - "Absolutely great physicians and staff. I have had several surgeries and each one has been done with meticulous care!"
December 2016 - "Laura Copaken is an angel doctor that God sent to heal broken hearts and broken bones."
December, 2016 - "Best ortho practice in the area! I tell all my friends and family this is the only place to go for orthopedic needs. Kudos to everyone. Keep up the great work!"
December 2016 - "Very nice and cordial staff."
December 2016 - "Very nice staff, always helpful."
December 2016 - "Donnell was Awesome! My son fractured his ankle and we had to have the splint rewrapped. During this crazy time it was so nice to have an informative friendly tech help us out. Keep up the good work."
November 2016 - "Everybody is so pleasant-that's unusual in a grumpy world"
November 2016 - "I have had an amazing experience with my doctors, nurses, technicians and pt! Will miss seeing my MMI family as I continue moving forward with my recovery."
November 2016 - "Love you guys, and i should know because i see so many of you - Bhargava, Pappas, Steinberg, Roussel, Nesbitt, infusion room, physical therapy...thinking about moving in!
November 2016 - "What a great place for health care. Love the group."
November 2016 - "My experience was, overall, excellent."
October 2016 - "I have been a patient of mmi for several years and i highly recommend the entire staff , the doctors and the nurses and especially the physical and occupational therapists. They have made my chronic disease tolerable."
October 2016 - "Donna is wonderful!! She asks questions about my life so she can better advise me on techniques that will work best for my needs."
October 2016 - "Kim was most helpful in going over how Medicare bills and how your billing dept. keeps track of my Cap amount. Very, very helpful and polite."
October 2016 - "An excellent medical practice in every respect!"
October 2016 - "Marisa was the nicest and gentlest person. Both Marisa and Kaitlyn are very knowledgeable and friendly. Marisa and Kaitlyn showed me how to do exercises. I was extremely pleased to have found MMI on the internet. I have received much better assistance here than at my previous Doctors office for my shoulder."
September 2016 - "Doctors and PT personnel are always friendly and understanding to my complaints and willing to go the extra mile to figure out what's going on with me."
September 2016 - "Tobi was wonderful and got me back up and functional in a short space of time. He is an excellent listener and a great healer who understood my limitations with my disease and adapted my therapy accordingly. I am very grateful that I was lucky to have him as my pt."
September 2016 - "Dr. Pappas is wonderful. He is very caring and supportive. I love Maria his nurse. She is very caring as well. Everyone is so helpful and kind. They are truly looking out for the patient's well being."
September 2016 - "I went to PT and had Brent and Anthony as my therapists. Both were excellent. I felt a special connection with Brent because he is so personable, caring and an excellent therapist. MMI is very fortunate to have two such special men. Thank you all and especially Dr Levine for his care."
August 2016 - "The staff at MMI are very good at what they do. They are friendly and courteous. They answer all my questions and provide practical advice to help my recovery."
August 2016 - "Extremely satisfied with the care and attention I have received. Physical therapy has literally gotten me back on my feet after knee replacements, bunion surgery and now back surgery. Thank you!"
August 2016 - Very impressive operation you have here and my doctor was excellent!"
August 2016 - "I'm encouraged by the progress I've made. Attribute this to thorough assessment by Tobi who then provided effective exercises that I am able to continue at home. Thank you."
July 2016 - "It's refreshing to see staff that love their jobs and their patients. Kimmi and Lori are so outgoing and welcoming. They care about every patient that walks through the door. The love they have for their job shows!!!"